What makes Siemens HQ in Masdar City the most sustainable building in Abu Dhabi?
---
Posted on September 28, 2014
---
Abu Dhabi is challenged with one of the world's harshest climates with up to 50 oC temperatures in summer and along with water scarcity and dependence on desalination of sea water, it takes significant amount of fossil fuel resources to meet the ever increasing energy demand. To put it in context, electricity consumption per household in Abu Dhabi was 10 times the world average and water consumption rate per capita was 2.5 times the world average according to a study conducted by Abu Dhabi Municipality in 2011. To worsen the problem, the utility tariffs are heavily subsidized by the government; the electricity subsidy in residential buildings ranges from 55% to 90% and the water subsidy ranges from 79% to 100%.
To respond to these challenges and in line with Abu Dhabi vision 2030, Abu Dhabi leadership committed to the need for a more sustainable development. Masdar City, an initiative of the government of Abu Dhabi, is aiming to develop a low carbon city. Masdar City is a cornerstone of sustainable development in the region and setting a benchmark as to how buildings should be designed and constructed.
One of the city's new buildings is the Siemens building that sets the standard in sustainable engineering, providing a 20,000 m 2 Grade A office space. Through its parametric façade design, the building maximizes efficiency by building more with less. The façade structure - effectively a box within a box – reduces solar glare and heat gain, at the same time allowing natural light to penetrate the office and communal space.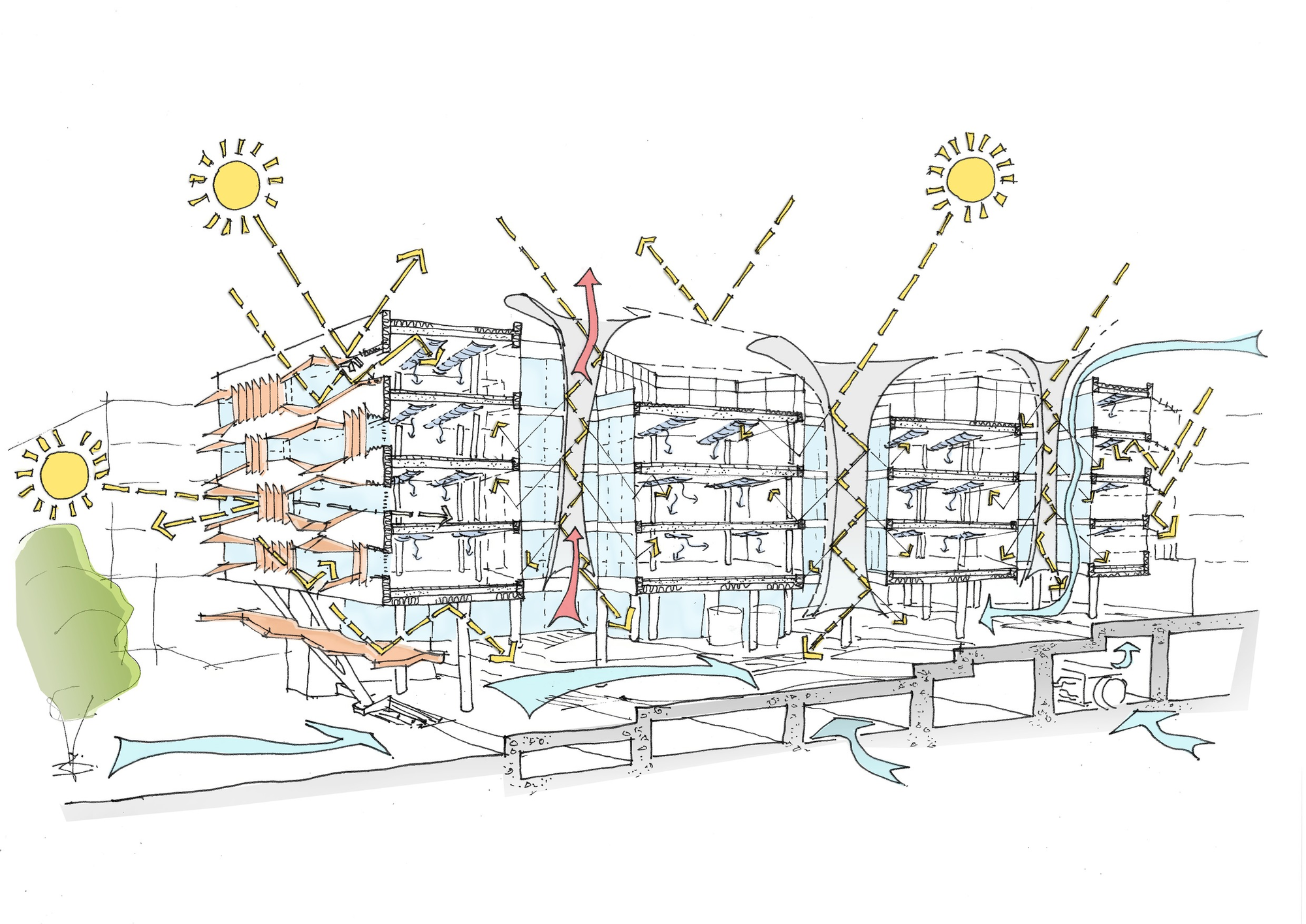 Image: Key passive design features adopted in the Siemens building in Masdar City
The Middle East Architect Awards recognized the Siemens building as the most sustainable commercial building in the entire Middle East and North Africa (MENA) region.

Image: Siemens Building in Masdar City
The building's annual energy consumption is 109.5 kWh/m2 which is much lower than Abu Dhabi commercial business as usual which is 333 kWh/m2. A number of passive and active design strategies were adopted to achieve energy efficiency in the building. These strategies include but are not limited to:
Optimized window to wall ratio (WWR) that was kept to an average of 35% of gross wall areas while maintaining balance between heat gains, daylight and views.
Highly insulated and airtight envelop with an External Insulation and Finish System (EIFS) with U Value of 0.16 W/m2.K for roofs and 0.27 W/m2.K for above grade walls against ASHRAE 90.1 2007 baseline of 0.36 W/m2.K and 0.705 W/m2.K respectively.
The roof is coated with high reflectance index (SRI) exceeding 78.
High performance glazing with U value ranging from 1.33 W/m2.K to 1.95 W/m2.K.
External shading adopted for façade design that reaches 100% of all glazed areas.
Light-emitting diodes (LEDs) are used, achieving an average lighting power density of about 7 W/m2.
8.5% of onsite power demand will be met by rooftop photovoltaic panels.
75% of hot water will be generated from solar water heaters.
The building has achieved a 3-Pearl Estidama rating and LEED Platinum (1st in Abu Dhabi for a commercial building).
Shaded and naturally ventilated outdoor spaces.

Image: External shading adopted for façade design
The Siemens building is indeed set to become a benchmark for high energy performance buildings in the Middle East region. It is a testament that if designed properly and according to proper climate response, the buildings in such regions will have the potential to minimize energy and water consumption while maintaining indoor comfort for tenants.
Posted by Faisal Saleem
---